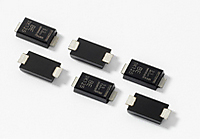 L'image affichée est une représentation non contractuelle

TVS-DIODE UNI 0,6KW 14V SMA
Fabricant:
Littelfuse
Désignation Produit:
SMA6L12A
Rutronik No.:
DTRL11553
Unité d'emballage:
3000
MOQ:
3000
Boitier:
SMA
Packaging:
REEL
TVS-DIODE UNI 0,6KW 14V SMA Description
The SMA6L series is designed specifically to protect sensitive electronic equipment from voltage transients induced by lightning and other transient voltage events.
SMA low profile package has the same electronical performance as the SMB package but with lowest height profiles (1.1mm) in the industry.
Features:
SMA low profile package: less than 1.1 mm
Same power as standard SMB devices (600 W)
Footprint compatibility with standard SMA and SMB products (easy to layout)
Typical failure mode is short from over-specified voltage or current
Whisker test is conducted based on JEDEC
JESD201A per its table 4a and 4c
IEC-61000-4-2 ESD 15kV(Air), 8kV (Contact)
ESD protection of data lines in accordance with IEC 61000-4-2 (IEC801-2)
EFT protection of data lines in accordance with IEC 61000-4-4 (IEC801-4)
Low inductance, excellent clamping capability
Fast response time: typically less than 1.0ns from 0 Volts to VBR min
Built-in strain relief
Glass passivated junction
Typical IR less than 1µA above 12V
High temperature soldering: 260°C/40 seconds at terminals
Typical maximum temperature coefficient ΔVBR = 0.1% x VBR@25°C x ΔT
Matee tin lead–free plated
Halogen free and RoHS compliant
Applications:
TVS devices are ideal for the protection of I/O Interfaces, VCC bus and other vulnerable circuits used in Telecom, Computer, Industrial and Consumer electronic applications.
Package

SMA

PowerDissipati

0.6 kW

Application

UNIDIRECTI

Breakdown-V(BR)

14.0 V

Automotive

NO

Clamping voltag

19.9 V

Stand-off V Vwm

12 V

Serie

SMA6L

Tolerance

5 %

Leadfree Defin.

10

Packaging

REEL
ECCN

EAR99

Numéro du tarif douanier

85411000000

Pays

China

Délai de livraison standard

14 Semaines